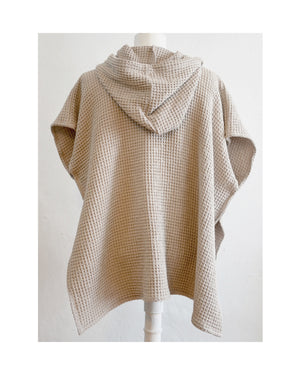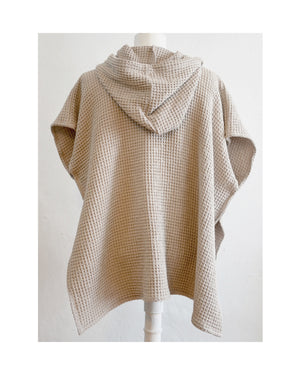 Short Hooded Poncho - Sand
Designed for our entire family, the . m o n k . Short Hooded Poncho was created with the idea of layering. On our small island (like all islands) we have microclimates which can bring about a gust of wind, sudden rain, and a quick chill. They can also bring about a day of summer in winter. That said, we felt the need for an easy piece of clothing to layer on/off with ease, and something made for the beach and day trips, not just for us, but for our kids too. So came about the Short Hooded Poncho - great for layering over swimsuits, great for throwing on after a sunny swim, or to town for a dinner with friends on a cooler evening, when you want something cosy without the bulk. 
Our . m o n k . ponchos are all made of 100% loomed cotton, and made by hand; a design which is timeless, elegant, and functional. The poncho rolls up nicely for traveling, is easy to wash and dries quickly. 
One size fits most, adults and children 5yrs +.